Asbestos Identification analysis.
asbestos testing
Each of our in-house laboratories are fully equipped to provide asbestos identification analysis in bulk materials in accordance with Australian Standard 4964-2004 'Method of the Qualitative Identification of asbestos in bulk samples' with an industry leading one business day standard turnaround.
Analysis involves breaking apart the submitted sample, locating fibres under stereomicroscope, then isolating and identifying the fibres. The isolated fibres are identified utilizing polarized light microscopy (PLM), including dispersion staining (DS).
A competent person can take a sample following the instructions available here. Should you prefer it, we can also arrange for one of our well-equipped and experienced field technicians to safely perform the sampling on your behalf and deliver the samples directly to our laboratory.
Since asbestos has historically been utilized in almost every material used in construction, knowing what to sample in certain situations can require industry experience. Feel free to give us a call for free sampling advice, or to organize a comprehensive asbestos survey.
The results of analysis are provided in an easy to interpret NATA endorsed pdf report, detailing the types of fibres identified and a description of the material. After receipt of your report, should you have any questions about how to manage/remove identified asbestos containing materials, our experienced and qualified staff are always happy to provide impartial advice.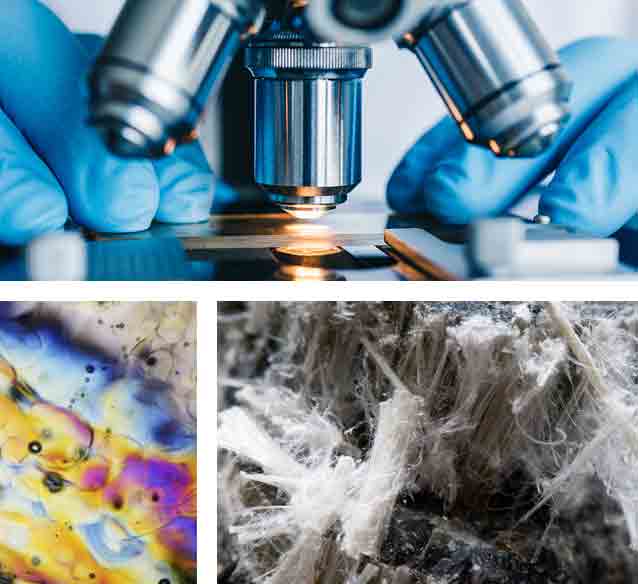 Leading Australian asbestos testing facilities
:
The ELS laboratory is fully NATA accredited to perform asbestos identification analysis in bulk materials, using Stereo Microscopy & Polarised Light Microscopy (PLM), including Dispersion Staining (DS) in accordance with ELS Test Method One, Asbestos in Bulk Materials. These are the guidelines set out by the Australian Standard 4964-2004 for the identification of asbestos in bulk samples.
Our laboratory quality system is externally audited for compliance with the International Standard ISO/IEC17025-2017 and all technical laboratory staff participate in externally managed proficiency testing programs.


Our laboratory reports will indicate whether asbestos was found. We provide full details on what types to help you quickly resolve the issue and health risks at hand.

Our report indicates which asbestos product is present, such as asbestos cement, low-density board, millboard etc. Reports can be emailed, faxed or posted to you or your client. Please just let us know when you book in your analysis.

Call us today to discuss your asbestos testing and report. If you are looking for bulk sampling services, please see our /sampling/surveying page.